Many students have started to receive emails that their testing centers for the SAT on August 29th have been cancelled. The official list of test center cancellations for the August test can be found on the Collegeboard website at the following link:
Take a look at this list and also log in to your College Board account to check on the status of your registration for the August SAT. For the time being we at Mindfish assume that test centers not listed on the above link will run the SAT on 8/29 as scheduled. However, that could change in the weeks to come.
At this time, there is very little availability to re-register for the August SAT at a different location. For example, there are a few spots available in the extreme west and east of Colorado for the 8/29 SAT, but nothing within 2 hours of the Denver metro area.
That said, there is still a good deal of availabilty for the SAT on September 26th. Availability is very dependent on geography and the status of the Covid-19 pandemic in your local area, but there are still some options if you'd like to test as soon as possible.
Generally speaking, there seems to be more availability in rural areas and in school districts that tend to be politically conservative. This roughly corresponds to schools and districts that are planning to open, at least part-time, for in-person instruction this fall semester. If a school is open for in-person instruction, we think it is more likely to run SAT's and ACT's as planned.
Please realize that these statements are educated guesses at best; this is very uncertain and fluid situation and we're doing our best to put together the clues and make good recommendations for our students.
Finding a Testing Center
The College Board website is a little tricky to navigate, but there is a work-around to see all available testing centers in your state:
After you've selected your test date, click "Try searching for a test center by name or city" instead of entering a zip code.

After clicking this option, a new window will pop up; the only required field here is "State"; make sure all other fields are blank and then enter your chosen state.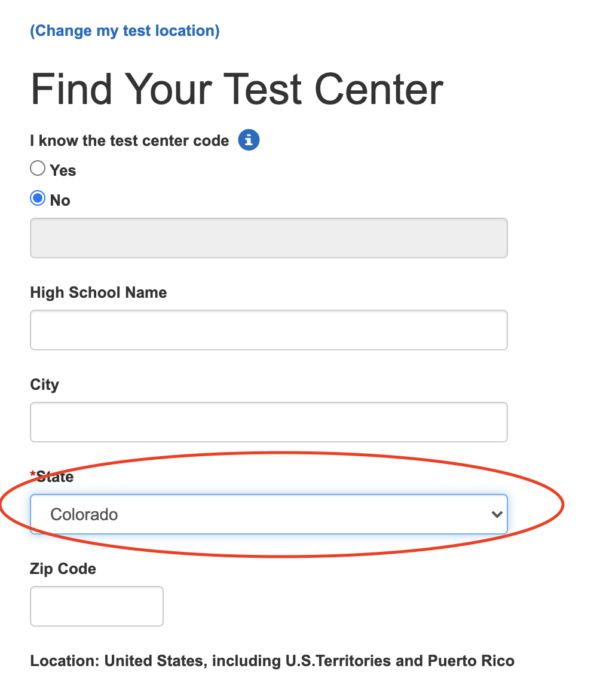 This will pull up a list of all available test centers in your state for your chosen test date
Also, to streamline your registration process (and see more availability) make sure you select the SAT without the optional Essay section and do not request the Student Answer Service.
Recommendations
Right now we're in the process of putting together specific test center recommendations for upcoming SAT dates. I'll be back in touch with some more thoughts on that very soon.
In addition to searching the College Board website for a seat for an upcoming test, we encourage you to talk with adminstators at your schools about the possibility of taking the SAT at the school in the near future. Public schools in Colorado are able to offer an SAT to class of 2021 students on Wednesday, September 23rd. Even if your school won't be offering in-person instruction at that time, it's possible that administators could open the building just to allow seniors to take the SAT on 9/23. We recommend talking to the powers that be to encourage that option. In addition, many private schools have gone directly to the College Board and ACT so they can offer tests to their students this year. We encourage private school students to explore that option as well.
Please contact us at info@mindfish.flywheelstaging.com with any questions you have about this process and how things are shaping up for your students' SAT registrations. We're here to help in any way we can and will keep you posted as we learn more.