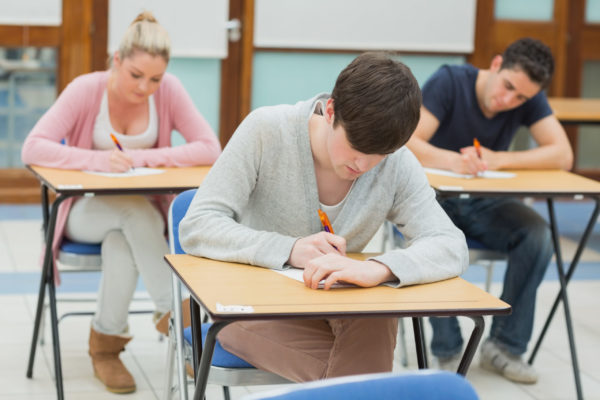 As a student, one of the most stressful days in your high school career is test day. Whether you've prepped with the best (i.e. Mindfish) or you're going into the test with a fresh set of eyes, the pressure associated with an official ACT is not to be understated. However, Mindfish is here to help.
In order to reduce your stress, you should be as prepared as possible going in. What should you bring to the ACT? The answer, generally, is "less is more." Don't bring anything that could be misconstrued as a violation of test regulations. That brings us to the most important thing test takers must remember when going in to take an ACT:
Don't Bring Your Phone
You cannot bring your phone into your ACT. If you are seen with your phone or if your phone is heard making any noise, you will be required to leave the testing center and your testing results will be voided. Additionally, your cell phone will always be a distraction, and the ACT requires your full attention.
So if your phone is what you shouldn't take, what should you take to the ACT? Bring your test credentials (admission ticket), driver's license or photo ID, pencils, calculator, a bottle of water, and snacks. For a complete rundown, review our ACT test day checklist below to find out exactly what you should–and should NOT–bring to your official ACT.
Your ACT Test Day Checklist
The ACT test provides a checklist for what you can and cannot bring into the test, but for a TL;DR summary, these are the things you need to bring to the ACT:
Bring:
Your admission ticket
Photo ID
At least two sharpened no. 2 pencils
An eraser
A test-permitted calculator*
Healthy snacks
Plenty of water
A watch that DOES NOT MAKE ANY NOISE
*For a list of permitted calculators, visit the ACT's calculator policy page.
DO NOT Bring:
A mechanical pencil or any other writing device apart from your no. 2 pencils
A calculator with a QWERTY keyboard or an otherwise prohibited calculator
Your phone or any other electronic devices other than your calculator
Any school textbook, information relevant to the test, or reading material of any sort
Still Have Questions?
With this list, the next time you ask, "What should I take to the ACT?" you'll know exactly what are, and are not, the right things to take! Still have questions? Visit www.mindfish.flywheelstaging.com and let us know how we can help you!