What is the ISEE?
The Independent School Entrance Exam (ISEE) is a placement test often used for admission consideration to private schools, particularly private middle and high schools.  Check with the school the you're applying to for specific ISEE requirements. Below is a list of some Colorado schools that may accept the ISEE for admission.
Alexander Dawson School, Lafayette

Arma Dei Academy, Highlands Ranch

Aspen Country Day School, Aspen

Boulder Country Day School, Boulder

Colorado Academy, Denver

Colorado International School, Denver

Colorado Rocky Mountain School, Carbondale

Emerald Mountain School, Steamboat Springs

Evergreen Country Day School, Evergreen

Friends' School, Boulder

Graland Country Day School, Denver

Kent Denver School, Englewood

Montessori School of Denver, Denver

St. Anne's Episcopal School, Denver

Stanley British Primary School, Denver

Telluride Mountain School, Telluride

Vail Mountain School, Vail

Winter Park Christian School, Tabemash
ISEE Testing Seasons

The ISEE has three testing seasons: Fall (Aug, Sep, Oct, Nov), Winter (Dec, Jan, Feb, Mar), and Spring (Apr, May, Jun, Jul). Students are allowed to take the ISEE once per testing season, allowing each student a maximum of three test dates per year. 
Colorado ISEE Testing Formats
The ISEE offers two testing formats: paper and online. Paper exams are administered in person at testing sites. Online exams can be taken at prometric testing centers or individually at home. 
ISEE Test dates
ISEE test dates and locations can be found on the ISEE website under "View Test Dates". Enter your student's grade for the following year, learning difference requirements, state, date period, and preferred testing method. A test date search for a current eighth grader entering the ninth grade may look like the example search shown below.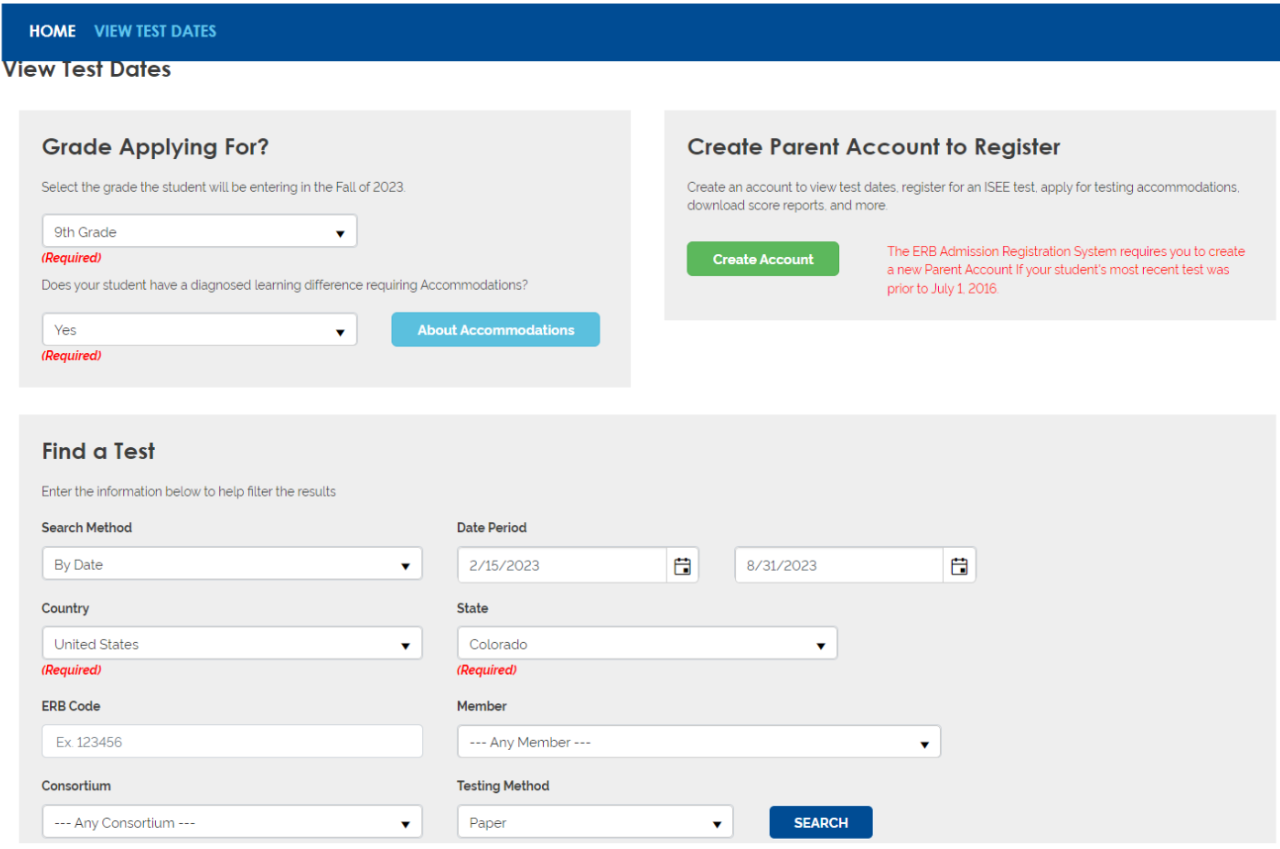 ISEE Accommodations 
The ISEE offers accommodations for students with documented learning differences. Potential accommodations include:
Extended Time

Calculator Use

Reader (for online tests)

Computer for Essay (includes spell check)

Access to Other Supplies 
To qualify for accommodations, families must complete the Accommodations Request Form along with supporting documentation. Accepted documentation may include documents such as a complete psycho-educational evaluation, a district-issued IEP or 504 plan, or a letter from a medical doctor. Complete requirements can be found in the Accommodations Request Form. Students should not register for a test until their accommodations request has been approved. 
ISEE Prep with Mindfish
Mindfish offers small group class ISEE preparation at St. Anne's Episcopal School as well as independent ISEE preparation and coaching.